Mumbai (Maharashtra) [India], Oct 04, 2023: India's most consistent and committed initiative, the Digital Women Awards and Summit organized by SheThePeople, is all set to celebrate its 9th edition. For the first time, it will be held at the T-Hub, Telangana, widely considered one of the most exciting places to incubate new ideas. To be held on World Women Entrepreneurship Day, 18th November, the initiative is building into a global platform for women entrepreneurs. It counts Pooja Dhingra, Falguni Nayar, Radhika Agarwal, and Priyanka Gill amongst its early alumni. From Smriti Irani, Rajeev Chandrashekhar to Dr Mukund Rajan, Amitabh Kant, Rajan Anandan, and Rajiv Anand have spoken at this prestigious summit aimed at celebrating women in business and reflecting on their journey and challenges.
The theme of the awards this year is "Access to Success,". As women build small and big enterprises, one big gap they face is in the spotlight they truly deserve. From the intent of building the business to growing it to scale, stories of 'how she did it' are often left behind. The theme also serves as a reminder to the fact that the country doesn't just need to pay more attention towards the work women entrepreneurs are doing but also celebrate them as role models and widen the opportunity and inspiration cycle for others.
Women struggle with finding work, stalled careers, lack of support and unequal pay. Providing them with equal access to opportunities isn't just critical to them but also to the society as a whole. Creating the conditions for women to succeed and thrive is central to the journey of India's growth story. Mahankali Srinivas Rao, the CEO of T-Hub, expressed his excitement about the event by saying, "This is one of the biggest awards for women entrepreneurs that aims to recognize women who are building businesses using the power of digital. As the country's premier innovation hub, we are happy to support a movement to empower women and acknowledge their significant contributions to the digital landscape."
Shaili Chopra, the founder of Gytree.com and SheThePeople, is the driving force behind the Digital Women Awards. She shared her vision, saying, "We believe women are bringing alive ideas for a new India with breakthroughs in digital and tech, transforming their lives and the nation's potential. This new entrepreneurial energy is what can take India to the next level and put women at the forefront."
Artificial intelligence is a special focus in this year's awards and summit. There is interest in talking about its use for seamless tech to enable quick and stable solutions. AI is playing a critical role in climate change, crop and agri needs, animal husbandry, social impact, health, and content. At the Digital Women Awards, AI for Impact is a special category. Other categories include content creation, disruption, ecommerce, social impact, leadership, solopreneurship, marketing, and more.
You are encouraged to apply and tell us how you are building a scalable technology ecosystem.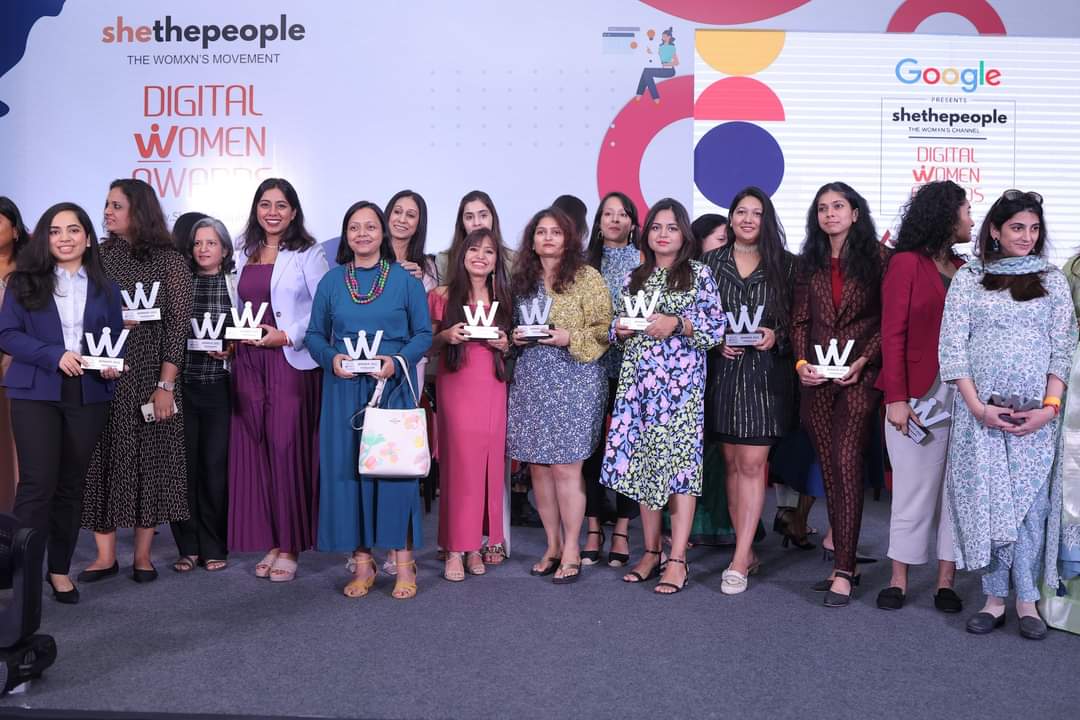 The jury this year includes prestigious names like Masoom Minawala: Fashion Creator & Entrepreneur, Pooja Dhingra: Founder and CEO at Le15 Patisserie, Hrishikesh Kannan- National Brand Head for RadioOne India Network, Akila Urankar: Director at Business Standard, Varun Vazir- TV actor, Taniya Biswas – Co-Founder at Suta, Shaili Chopra: Founder at Gytree.com and SheThePeople. Pooja Dhingra, Jury chair this year (and a former winner) said, "I am thrilled and deeply honored to be a part of the jury for this year's SheThePeople Digital Women Awards. It's quite a special journey for me – from receiving this award back in 2015 to now being a part of the team that decides the winners. It feels like things have come full circle."
In the last 8 years, the Digital Women Awards has received a whopping 170,000 applications from across India and had 1,670 amazing speakers participating in 8 editions. The awards have witnessed a remarkable reach of 5 trillion on the internet. Charvi Kathuria, lead of Digital Women Awards' organizing team for the past seven years, highlighted the growing impact of these awards. "Each year, our endeavor is to make these bigger and better. I strongly believe that women entrepreneurs have the power to shape society while enriching and catalyzing the business environment with their unique perspectives and ideas."
If you are a woman running your own business, and growing it using technology, visit SheThePeople's website to apply now.
Digital Women Awards 2023 Application: Here's The Last Date To Apply (shethepeople.tv)