The Big Brain Brilliance Knowledge Hub, in collaboration with ScholarsTree Educare Pvt Ltd, Dr. Pratik Mungekar, Dr. Saravjeet Kirad, and their dedicated team, hosted the groundbreaking G20 Theme Education Summit. Held at S B Patil Public School in Ravet, this extraordinary event witnessed the unprecedented participation of school students as speakers alongside distinguished experts. For the first time in history, students presented their suggestions, views, and implications to government officials, addressing global issues, new policies, and the overall growth and development of our nation.
The summit, held on 16th August, drew together renowned Guests of Honor, including Kajal Chhatija, Karuna Arpana Prasad Sankhe, Adv and High Court Mediator Mrs P S Potdar, as well as Special Guests Basavaraj Navalli, Sunita Rai, Dr. Shakir Shaikh, Anita Peer, Priti dabde and Prakash Bhapkar. Their presence enriched the occasion with their valuable insights, adding depth and wisdom to the discussions. The event was made possible through the exceptional support and arrangements by design partner Kamal Singh,  Dr Akshay R. Kamble, Vedgunn Foundation, Deepak Chawla from innergy Celebration Partner, Mrs Swati Chaudhari – Amar Bakers, and the Hospitality and Venue Partner, S B Patil Public School, led by Bindu Saini and Padmavati Mam.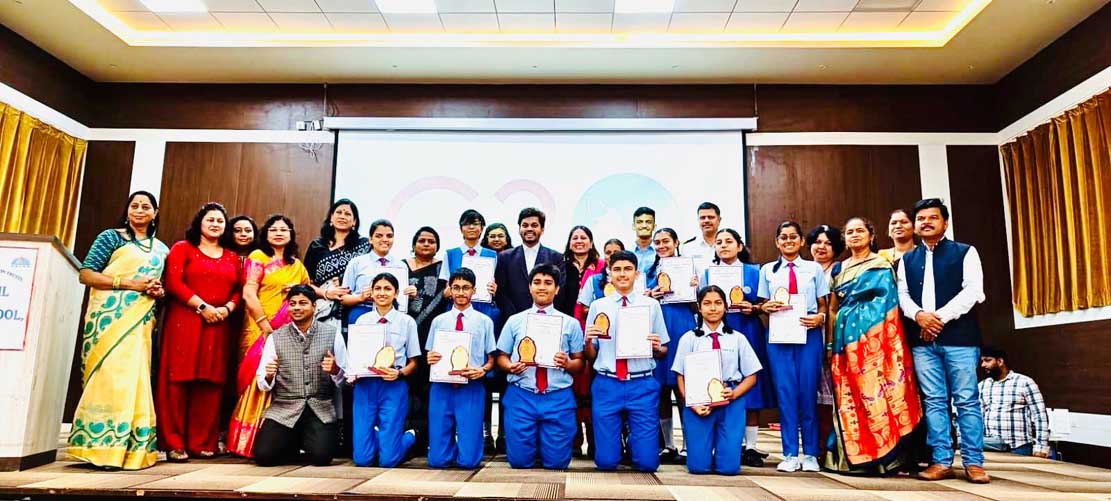 The success of the G20 Education Summit would not have been possible without the invaluable contributions of our partners. We extend our heartfelt appreciation to our Connecting Partner, EduDrone – We Connect; Regional Media Partner, Samrudh Vyapar Datta Paralkar; Online Media Partner, Brand Maker RD Rupesh Dharmik; Featuring Partner, Stay Featured, ScholarsTree Educare Private Limited; and Dr. Archana Burman from DIAS driving Aspiration. Their support and collaboration played a vital role in making this event an extraordinary success.
The highlight of the summit was the exceptional involvement of student speakers who showcased their insightful ideas and innovative solutions with remarkable passion. Their dedication and hard work serve as an inspiration to us all, highlighting the tremendous potential and brilliance of our future generation.
We extend a special thanks to the organizing team, including Dr.Pratik Rajan Mungekar, Dr Saravjeet Kirad, Dr. Renu Singh, Dr Prachetan Potadar, Mrs. Bhawana Gupta, Mrs. Shweta Pankaj, and all the students, volunteers, staff members, and support staff who worked tirelessly to ensure the event's grand success. Their commitment and tireless efforts made the G20 Theme Education Summit an unforgettable experience.
We express our deepest gratitude to everyone who contributed to the remarkable success of the G20 Education Summit. It has been an absolute honor to be a part of this extraordinary event, and we eagerly anticipate the prospect of organizing more groundbreaking events in the future.